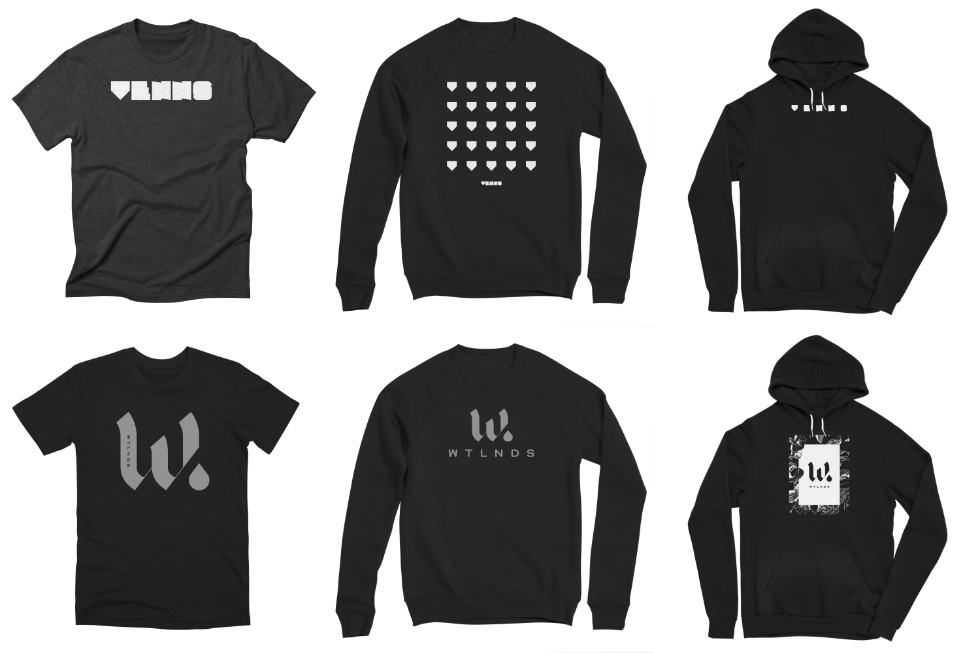 Clean, minimalist, merch offerings from WTLNDS and Venns.
WTLNDS Profile & Merch • https://thebunn.ca/wtlnds  VENNS Profile & Merch • https://thebunn.ca/venns
Origin 
Growing up in the skate culture of the 80s, it was obvious that the graphics propelled it. The Illustrations, graphics and design on the boards, in the magazines and printed across all of the merch were a huge, rad part of skating. You knew who your tribe was in the highschool hallways just by the t-shirts they wore. That culture is also what led most of us to punk rock and is largely why The Bunn is who he is today.
Development 
For The Bunn, the interest in graphics started with drawing all over binders in dry classes (every class was a dry class!). It was either drawing facsimiles of existing skate graphics or dreaming something up.  
Fast forward, The Bunn spent a bunch of years as a designer in the music manufacturing and printing realms, both as an employee and studio owner, applying those years of scribbles in a real and legitimate way.  
Designing for others was never a problem for The Bunn. Designing for personal projects.. that's always been rough. "When it comes to clients, there are usually too many ideas, but when it comes to my own projects, it's like staring into an empty void".  
  
Hits and Misses 
The very first tee designed for the Bunn was the "Tune Lower" pedal tee. It was a filler graphic that was created simply to populate the Threadless shop and figure out how everything worked. It was never intended to be an official merch item. The shop was stocked and launched, but the "Tune Lower" tee never got taken down. Strangely, it proceeded to sell like crazy. The Bunn noticed, decided to roll with it and left the design up for a time as an experiment and evaluation. Eventually the design was retired and replaced with designs more in line with what The Bunn himself was all about, releasing a line of merch to include not only tees and hoodies, but shoes and backpacks as well.   
Venns Merch (scroll down) • https://thebunn.ca/venns
WTLNDS Merch (scroll down) • https://thebunn.ca/wtlnds
The Takeaway 
None of it connected. It was obvious that designing for the designer wasn't a great idea. Most folks are just not interested in design. Especially the crowd that enjoys slightly more aggro music. It doesn't matter if the music is a bit artsy, they don't tend to care about fashion or design. It was back to the drawing board.   
The Pivot 
At this stage, there are three roads to explore.  
Road 1. Functional, minimalist designs with logos and release appointments. 
Road 2. Treat each design as a total art project and with complete disregard.  
Road 3. Both in parallel. Can one do it all? 
Right Now 
The current merch selection for all 3 projects resides in the conservative minimalist space. This includes new offerings for both the WTLNDS "Floral" release and the Venns "Team Sports" release. The existing "Bunn Fashion Line" will be deprecated by April 1 2022. So, if you are interested in any of that, now is the time. As for total art merch, it is in it's experimental phase. The key here will be to discard all beliefs as to what the merch is "supposed to be" or how it is "supposed to look". To zero in on that original motivation of what would be rad and get us stoked. Time will tell. 
--------------------------------------------------- 
Cheers! 
Bunn & Co.