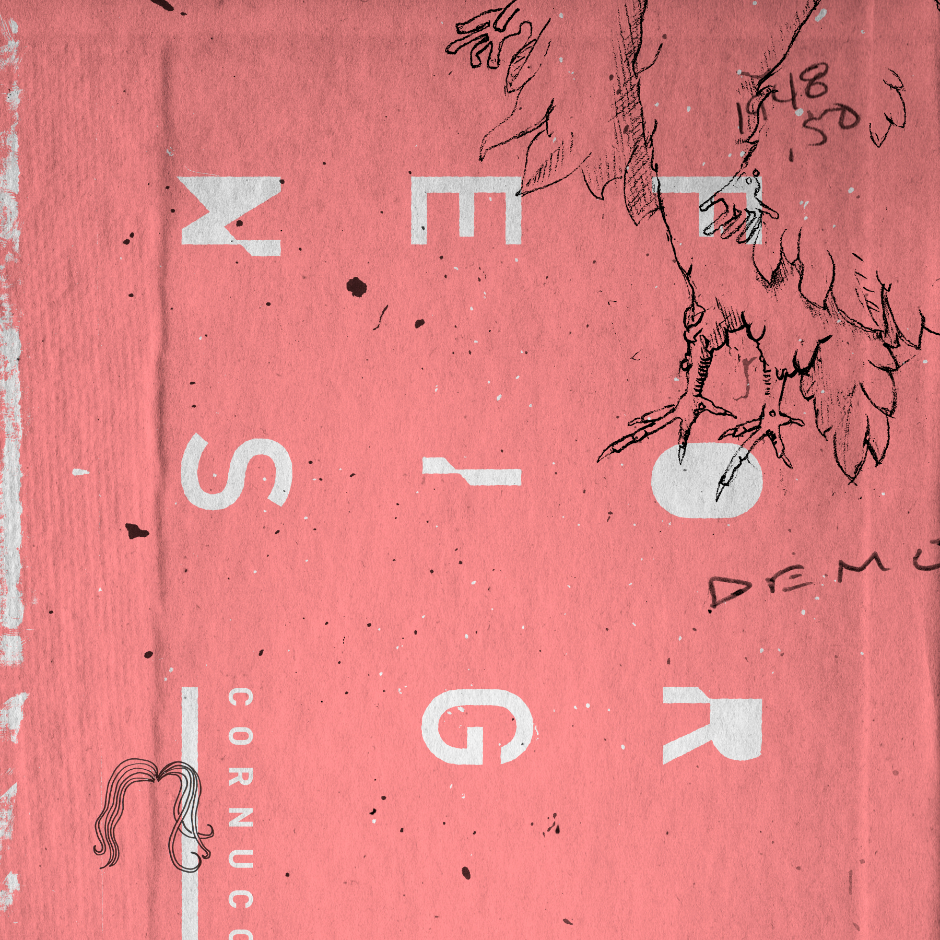 "Cornucopia" brings a faster, more organic Foreigns with greater swagger. Taking cues on all sides from a simpler time.
At the top of March, work began on new Foreigns material. At the outset, the questions were - how will the sound evolve, and how can it be made to sound less "computer" as most modern production does? Even though all Bunn music is produced on computers there is a strong desire to place more distance between Bunn and the world of overproduced "computer-metal". 
The most significant method in evolving the sound came from reaching back into sounds from Bunn's past band projects, just in way lower tuning. While the new Foreigns vibe clearly continues from where it left off with the Concentric / Pneumatic release, it also borrows vibes from Bunn's late 90s / early 2000s efforts. Slivers of Mathrock, Screamo and Post Hardcore. 
There is a whole page of early Bunn band projects here for the curious: https://fashionmachine.bandcamp.com/ 
In the great escape from the ultra computerized sound, ripe in today's productions, the main decisions are: 
1. Play looser - Longer takes, and play with more swagger (always been the case in Bunn-land, but now emphasized). 
2. Never edit takes - besides trimming excess heads and tails, it is what it is (also something that has always been done but now to a maximum). 
3. Less processed tone - use a simple, pushed, low gain amp tone that does not need a gate 
4. Use way more tape & transformer saturation - nothing clean ever, not even drums.  
5. Looser drums - a bit tougher because Bunn stuff is programmed, but make it looser! 
 

In some ways, "Cornucopia" keeps with the vibes established on the "Concentric/Pneumatic" release, maintaining a higher energy delivery than how Foreigns had established itself with the more sluggish pace of the "Metropolitan" EP.  
Where "Cornucopia" really differs however is in the tone and attitude. The Tuning and the scales are the same, but the tone is an un-gated, pushed, lower gain vibe with a hopeful outlook in the delivery. While in some ways there are parallels in movement with the now sort-of-famous "Harbour" riff, the principal theme in "Cornucopia" twists, dips and weaves quite a bit more than anything previous from Foreigns. 
High energy drums and a focused arrangement round out this latest creation from Foreigns. With some elbow grease and a little bit of luck, let's hope that the project can keep pace to deliver a full collection of new material by year end.  


Specs for Nerds: 
Guitar: Warmoth Parts Tele Baritone w/ Alumitone bridge humbucker 
Amptone: Bunnsonics 2022 Foreigns Helix preset (Unreleased - Beta available to Members) 
Bass: Dingwall Combustion w/ stock bridge humbucker 
Amptone: Bunnsonics Foreigns bass preset (https://thebunn.ca/bunnsonics) 
Drums: EZ Drummer II  Kit: Bunnsonics DFH preset and mix template (https://thebunn.ca/bunnsonics) 

Written: Spring 2022 
Recorded & produced: Spring 2022 
Location: Toronto Ontario Canada 
Released May 4, 2022 
Written, recorded and designed by "The Bunn" 

--------------------------------------------------- 
Grab "Cornucopia" & the whole Bunn discography here:
https://thebunn.bandcamp.com/album/cornucopia-single-demo
--------------------------------------------------- 
 
Made possible by Patrons and YT Members: 
Patrons: Yan Shcherbakov, Skip Fantry, Zegema Beach Records, Matt McGrath, Charl Fourie, Hunter Christian, Ryan Davis, Courtney Serumgard, Anybody, et al., Unai Bolivar, john, Gary, Rose Garcia, Richard Sly, Anothercouture, Veeeeeeeeeeeeeeeeeeeee, bc likes you, Gus, Kipp Grose, Riffs From The Abyss 666, Raziel, Panic, John Voorhess, William Davis, Randall Jenkins, Philip Miller, Tanner RoughRiffs Borglum, Tylah Nietrzeba, 1nc1n3rat0r, Vlad Datcu, panic_chords 
YouTube Members: Layne Anderson, NotAnotherBassPlayer, Treggify, Cesar Bouli, Sebastian Bica, Nick Tacey, Aidan Hiller, Charles Untereiner, Datamouth, jason OCHO ochoski 
--------------------------------------------------- 
Cheers! 
Bunn & Co.